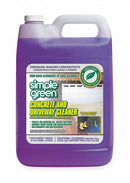 ---
Availability : Usually Ships in 1-3 Business Days
Simple Green Concrete and Driveway Cleaner is a concentrated pressure washer cleaner specially formulated to remove oil, grease and grime from concrete surfaces and driveways. It removes most tough stains and discolorations (not caused by dyes), and is noncorrosive and nondegrading. This powerful formula was developed to be used with pressure washing systems but can be used by manual application for cleaning concrete surfaces. Cleaner is a nontoxic and biodegradable concentrate that is safe for pressure washing machinery.,Directions for use:,BEFORE USE,1) Always wear eye protection.,2) Saturate plants, shrubs and grass with water.,3) Keep others and animals away from work site.,4) Test pressure washer for surface compatibility, with and without the cleaner, in an inconspicuous area. Rinse and allow surface to dry before proceeding.,5) Pressure washing alone may remove old paint and stains and should be tested on surface prior to cleaning.,6) For vertical surfaces, solution should be applied working from the bottom up and rinsed using fresh water from the top down to prevent streaking.,7) For extremely light soils, pre-dilute this product 50/50 with water and follow the instructions above.,8) Do not allow product to dry on surface before rinsing.,9) Do not allow contact on any deteriorated painted, sealed, or stained surfaces unless you intend to refinish.,Application directions:,1) Put pressure washer siphon tube into solution.,2) Use low-pressure spray nozzle to apply solution to surface.,3) Remove the siphon tube from the container.,4) Rinse with a high-pressure nozzle.,5) Before storage, rinse pressure washer parts thoroughly.,6) Saturate plants, shrubs and grass with water after cleaning.,Manual cleaning:,1) Dilute 1-measure of Simple Green with 10-measures of ambient water (Example: In a clean bucket, add 2 cups of Simple Green to 1 gallon + 1 quart of water).,2) Clean in sections using a soft bristle brush.,3) Allow the cleaning solution to remain on the surface for several minutes, but not to dry.,4) Rinse with a garden hose, at highest pressure possible.,5) Move to a new section and repeat.,PRODUCT MAY NOT BE COMPATIBLE WITH ALL ASPHALT SEALERS.
| | |
| --- | --- |
| Cleaner Chemical Product Grouping | Metal Polish and Stone Care |
| Item - Metal Polish and Stone Care | Concrete Cleaner |
| Chemicals For Use On | Hard Nonporous Surfaces |
| Cleaner Container Size | 1 gal. |
| Cleaner Container Type | Jug |
| Fragrance | Unscented |
| Ready to Use/Concentrated | Concentrated |
| Recommended Dilution | 50 |
| Cleaner Form | Liquid |
| Effective to Remove | C. Difficile Spores, Hepatitis A |
| Chemical Series | No Series |
| Primary Chemical | Alcohol |
| Contains | Ethoxylated Alcohol |
| Item | Concrete Cleaner |
WARNING: California Residents
This product and/or packaging can expose you to chemicals including Styrene, which is known to the State of California to cause cancer and birth defects or other reproductive harm. For more information go to www.P65Warnings.ca.gov.